Hawaii Island's traditional holiday motorcade revvs up the Christmas spirit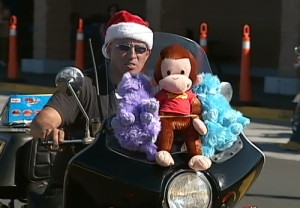 December 13, 2010 – HILO, Hawaii
Video by David Corrigan | Voice of Stephanie Salazar
It wasn't the sleigh bells ringing, but the motorcycles revving that signaled the annual toys for tots drive on the Big Island of Hawaii. 
On Sunday, hundreds of motorcycles and classic cars, many adorned with stuffed animals – cruised Hilo, from the Wal-Mart parking lot to Kealoha Beach Park,  also known as "Four mile" in Keaukaha, and back to the Aunty Sally Kaleohano Luau Hale for traditional holiday fun.
Organizer Ellsworth Fontes, his leg in a cast from a recent motorcysle mishap, still managed to direct traffic.
And keeping a promise, Mayor Billy Kenoi rode along on his own bike. Last year the mayor rode in the sidecar and vowed to learn how to ride a motorcycle so he could go solo this year… and he did!
Hawaii State Rep. Jerry Chang and Santa himself led the motorcade.
The toys gathered each year are donated to children in need to make their Christmas a little brighter.
New Patient Safeguards for Online Drugstore Prescriptions. Part 2