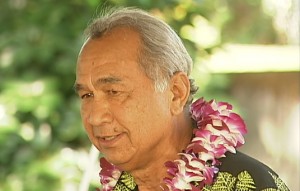 Video by David Corrigan | Voice of Stephanie Salazar
Big Island lawmakers will get to work today as the state legislature convenes in Honolulu.
Looming over the session will be an $800 million shortfall in the two year budget cycle, and they will have to find out how to balance the budget before July 1st.
On the table are cuts in service, possible layoffs, maybe even tax hikes.
Its a tough time to learn the ropes at the statehouse, but that is just what newly appointed State Senator of the 2nd district, Gilbert Kahele, will be doing.
"The past few days has been a whirlwind for me," said Kahele recenlty. "I'm the new kid on the block. But I consider myself as someone who can work with anyone to get the job done"
Kahele has already taken one huge committee task, which he announced during the recent Student Services Center groundbreaking on the campus of UH-Hilo.
"Thanks to Senator Malama Solomon who gave up her seat – because all the seats were taken on Ways and Means," said kahele, "and I know its a very important seat to be on in order to follow the money."
Kahele will also serve as Vice Chair of the Agriculture Committee.
Senator Solomon also stated her intention of jump starting the economy with new construction… and she is looking at a university project on the west side of the island.
"I hoping that in this legislative session," said Solomon, "that we will see our way clear to really getting the West Hawaii campus moving. Its a campus that's been on the back burner for 20 plus years. We've always had a vision for that campus as being the leader in environmental sciences, which is the new tecnhologies of the world."
Meanwhile, Governor Neil Abercrombie hasn't said much about how he proposes to balance the state budget. The state of the state address is going to be held on January 24th.