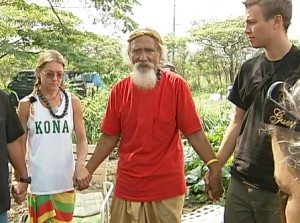 Video by David Corrigan | Voice of Stephanie Salazar

Martin Luther King Jr. Day  marked one year for Uncle Abel Simeona Lui's roadside vigil at Kawa in Ka'u.
The day was shared with ohana and fellow Hawaiian activists at the site by Highway 11, where most of the beach goers enter to reach the shore.
Abel claims to be the konohiki and allodial heir to the land, which is currently under negotiation for sale. The County recognizes the lawful owner as the Edmund Olson Trust, and the government is trying to purchase the area for public open space preservation.
Abel has been camping out on the side of the highway as a form of protest against the pending sale. During the past year, he has tranformed the location into a virtual homestead, complete with a garden and smoldering imu.
Abel thanked his supporters during a quiet pule on Monday.