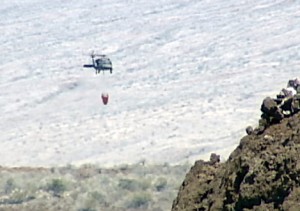 By Stephanie Salazar
A military plan to conduct high altitude helicopter training on Mauna Kea and Mauna Loa was not well received by the Mauna Kea Management Board on Tuesday.
Training exercises from Pohakuloa would call for continuous operations on the two mountains, landing the machines at high altitude zones from 8,000 to 12,000 feet.
The maneuvers would prepare the Schofield Barracks-based 25th Combat Aviation Brigade for a planned deployment to Afghanistan
Although the board has no jurisdiction in the matter, the group voted unanimously to send a letter in opposition to the military proposal. 
 The plan did not find any acceptance from the public at a recent hearing held in Hilo, either. Watch that video here.