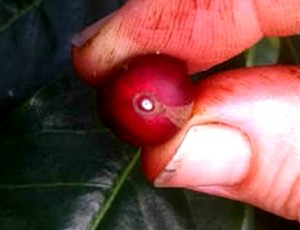 By Stephanie Salazar
Hawaii's Agriculture Board has approved an emergency permit request to bring two pesticides – Botaniguard and Mycotrol – to the Big Island to aid in the fight against the invasive coffee berry borer that is threatening to devastate the Kona coffee industry.
The pesticides are already registered for use in the United States, but since they contain a live fungus, the state of Hawaii must issue a permit before it can be shipped over.
The fungus – Beauvaria bassiana – is actually already found on some Kona farms, and farmers believe that both the fungus and the coffee berry borer have been on the island far longer than September 2010, when it was the CBB was officially confirmed. The fungus, some farmers believe, has been keeping the beetle in check for years, but when the drought hit Kona in 2010, the fungus died away, allowing the CBB numbers to explode.
The state would need to issue a license in order for farmers to be allowed to use the pesticide.
Kona coffee is currently under quarantine because of the infestation.