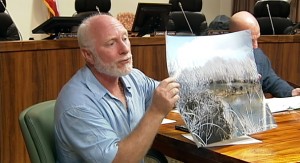 Video by David Corrigan | Voice of Stephanie Salazar
In Hilo, a modest crowd attended a state Department of Land and Natural Resources public hearing on proposed conservation district rule amendments.
This was the second round of hearings held by the DLNR Office of Conservation and Coastal Lands. The office is hoping to modify, delete or add to the current administrative rules, hoping the changes would improve work efficiency.
Administrator Samuel J. Lemmo went over some of the changes before taking public comment, which contained changes to things like more flexible accessory use, new shoreline setbacks, and allowable cabin size.
But one proposed rule change got the attention of Puna resident Syd Singer. The DLNR is looking to define the term "invasive species" … a topic Singer has devoted himself to… and the rule changes would even drop requirements for certain permits, environmental assessments or public oversight for invasive species eradication in conservation zones.
In his testimony, Singer often made reference to the eradication of mangroves along the Puna coast, which was carried out – without any environmental assessment – by environmental group Malama o Puna.
Rene Siracusa defended her organization when she gave her own testimony. She also said she supports the proposed rule changes when it comes to invasive species eradication.
The new rules also loosen the bureaucracy on ungulate control and fence building, which raises the ire of local hunter Tony Sylvester.
The DLNR Office of Conservation and Coastal Lands is responsible for overseeing approximately 2 million acres of private and public lands that lie within the conservation district.
Meanwhile, the DLNR Division of Forestry and Wildlife reopened Mauna Kea Forest Reserve, Pu'u Wa'awa'a Forest Reserve, Kaohe Game Management Area and Pu'u Anahulu Game Management Area to normal public activities.
The lands had been closed for about 7 months due to the extreme fire danger brought on by the severe drought of 2010. That closure was extended three times.
The DLNR says that although normal public activities may resume, such as hunting, hiking, bird watching, off road vehicle use (ATV, motorcycle, OHV, etc.) and commercial activities, everyone is reminded to still be cautious and take precautions to prevent wildfire in these areas.