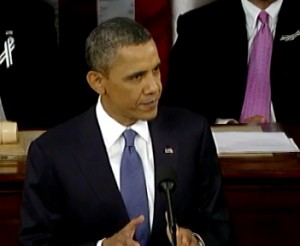 Video courtesy the White House, voice of Stephanie Salazar
As Hawaii Governor Neil Abercrombie clamps down on the state's fiscal situation, so too is the president of the United States.
President Barack Obama delivered the State of the Union address in Washington D.C. on Tuesday, in which he talked about moving forward to create jobs, out-compete in the global economy by investing in innovation and education, and win the future for our children and our country.
The President also warned the nation that some tough decisions are ahead.
"So tonight," said the President, "I am proposing that starting this year, we freeze annual domestic spending for the next five years. Now, this would reduce the deficit by more than $400 billion over the next decade, and will bring discretionary spending to the lowest share of our economy since Dwight Eisenhower was President. This freeze will require painful cuts. Already, we've frozen the salaries of hardworking federal employees for the next two years. I've proposed cuts to things I care deeply about, like community action programs. The Secretary of Defense has also agreed to cut tens of billions of dollars in spending that he and his generals believe our military can do without."
"Now, most of the cuts and savings I've proposed only address annual domestic spending, which represents a little more than 12 percent of our budget," Obama added. "To make further progress, we have to stop pretending that cutting this kind of spending alone will be enough. It won't."
Hawaii County can expect a similar message from Mayor Billy Kenoi when the administration's first ever "state of the county" address is given on Thursday.
Huge budget deficits are facing government on the county, state and federal levels.