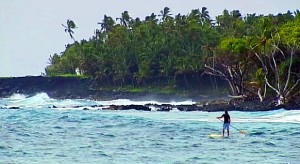 Video by David Corrigan | Voice of Stephanie Salazar
Pohoiki no ka 'oi!
The Hawaii County Public Access, Open Space and Natural Resources Preservation Commission has selected the popular Puna beach spot as the number one target for purchase by the county in its 2010 Priority List.
Mayor Billy Kenoi – who surfs at Pohoiki regularly – announced the selection during the recent state of the county address.
"Its a special unique area," the mayor said. "Its not true that its ranked number one on the open space commission because we surf there regularly… that's not true."
"Purely coincidental," added Kenoi, with a smile.
The top four priorities on the list are Pohoiki Bay, the Keawenui Access Easement second, the Hāmākua Springs Agricultural Conservation Easement in Pepeekeo as number three, and the Hapu'u to Kapanai'a Cultural Corridor as number four.
Once again, as in past lists, the North Kohala is well represented.
The mayor made it a point to mention the acquisitions of other North Kohala properties as proud accomplishments of his administration. Past purchases have created the "largest coastline preservation system in the state of Hawaii", when completed.
Kenoi actually recommended abolishing the open space fund to help balance the county budget in 2009. The land fund was previously maintained by a 2 percent set aside of real property taxes. After heated debate, the county council supported the plan. (See Correction below)
The decision mobilized the community to pursue the same set aside through a county charter amendment. The proposal was introduced through the county charter commission, and was approved by voters in the 2010 election. The new land fund only takes a 1% set aside from real property taxes.
Also mentioned on the report… the current status of the effort to buy three parcels at Kawa in Ka'u, which was a high priority on last year's list. According to the report, the attempt to finalise the $3,900,000 purchase was granted an extension by the DLNR to June 30, 2011 to obtain proceeds from the State grant, which accounts for over a third of the funds. The report says it is "Working with DLNR to clear up title issues for properties."
The title is being disputed by Abel Simeona Lui, who has been camped out at the entrance of Kawa on Highway 11 for over a year now, ever since the 2009 Priority List was issued.
UPDATE – The mayor's executive assistant, Kevin Dayton, offers the following correction to this story:
Mayor never proposed abolishing the Open Space fund. What he did was suspend
payments into the fund for two years as a temporary fix to avoid layoffs and
other cuts in services. Under the county code, those payments into the fund
will resume starting July 1.

The charter amendment didn't have any effect on any of that.
Mahalo to Mr. Dayton for clarifying.