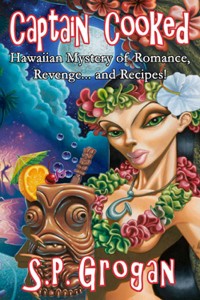 Media release | Addison & Highsmith Publishers
Captain Cooked is Cooking!
S.P. Grogan, author of Captain Cooked, will be signing his mystery on the Big Island and O'ahu, Feb. 19-March 1st.
One reviewer says "Captain Cooked reads like Janet Evanovich morphing into Rachel Ray while filming a remake of the Perils of Pauline." The book's subtitle speaks of 'Hawaiian Mystery of Romance, Revenge…and Recipes'.
The heroine, instead of finding 'a quiet beach where she could go topless,' stumbles into a poisoned Hawaiian singing star. Her working vacation involves riots, suspicious accidents, earthquakes, flowing lava, a real cliff hanger — and romance, having to choose between three men. As the author teases, 'and don't forget the boiling cauldron'.
"Because I love the cultural mix of the islands and especially in these tough economic times," explained Grogan, "I've sought to create an adventure to attract more tourists to Hawai'i." Local island artists like Kathy Long, Brad Parker, and Herb Kane are featured in Captain Cooked, as are top restaurants and chefs like Amy Ferguson, Alan Wong, Merriman's, and Hilo Bay Café who contributed their best recipes. A portion of book sales are being contributed to the Big Island Food Basket Program.
A unique aspect of the novel is that there is a real treasure hunt embedded within the pages. A Hawaiian war club is somewhere hidden on the Big Island and if found, using GPS, the finder receives $5,000 cash. This same sort of contest was employed in Grogan's previous mystery, a best seller entitled Vegas Die, where a dagger was secreted in a library book.
Visit www.CaptainCooked.com to start the adventure.
Book Signing Dates —
Saturday, February 19th Borders Bookstore, 75-1000 Henry Street in Kailua-Kona 10:30 am (808.331.1668 )
Saturday, February 19th at Basically Books 160 Kamehameha Ave. in Hilo 2 pm (800.903.6277)
Sunday, February 20th 10am, Big Island Geocachers at Island Lava Java restaurant, 75-5799 Ali'i Dr., on Kona Bay in Kailua-Kona
NEW ADDITION: Sunday, February 20th Royal Kona Resort with book cover Tiki artist Brad Parker, 4 pm to sunset, 75-5852 Ali'i Drive, Kailua-Kona
Tuesday, March 1st, Kona Stories in Kailua-Kona 6 pm 'Words & Wine' (Keauhou Shopping Center, 78-6831 Ali'i Drive (808.324-0350)
Video above courtesy YouTube/rockcomedyfilm