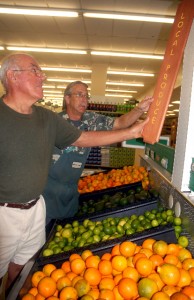 Media release | Hawaii Tropical Fruit Growers
FRUIT GROWERS TAP CHOICE MART FOR SUPPORTING LOCAL GROWERS
CAPTAIN COOK – The statewide Hawaii Tropical Fruit Growers (HTFG) is recognizing South Kona grocer Choice Mart at Kealakekua Ranch Center for offering local produce "first and foremost" to customers.
HTFG's board of directors recently presented the supermarket with attractive, custom signage reading "Local Produce."
"What Choice Mart does with local produce should be a model for the rest of the state," emphasized Ken Love, HTFG president. "Hawaii residents should be able to walk into a store and see our oranges and our avocados—not imports! I've yet to see a major grocery store, on any of the islands, feature local produce consistently up front. Choice Mart deserves this well-earned recognition."
Choice Mart displays a wide range of local fruit and vegetables in the first aisle of its store. The grocer buys fresh, just-picked produce from more than 50 local growers.
"Local produce is the first thing you see when entering our store," details Tom Palusak, Choice Mart produce manager. "Most of our customers are local so we focus on buying and selling local."
Since moving the local produce to the first aisle, sales of avocados, oranges, tangerines, strawberries, pineapple and even jaboticaba, "have increased more than 50 percent" reports Palusak.
Harold Moodie of Hiolani Enterprises sells his mangoes and other exotic tropical fruits at Choice Mart. "Choice Mart is willing to work with us small growers," says Moodie, whose orchard is above the Keahole-Kona International Airport. "The store is willing to buy small amounts as the fruit is ready." Moodie says he sells 50 to 60 pounds of fruit there twice weekly during mango season.
Another grower, Joan Lamont of Happy Honu Farm in North Kona, says Choice Mart's willingness to effectively market local produce is a win-win for the grocer, the grower and the customer.
"It serves those customers who want to eat local produce as well as helps us small farmers by making our produce readily available to the public…" she explains. "Choice Mart has done a wonderful job in labeling which produce is local as well. More and more people want to buy locally; Choice Mart has listened to its customers."
Both Moodie and Lamont say their association with Choice Mart has been positive as the produce department crew makes them feel "welcome and wanted" when delivering their goods. They also have become Choice Mart shoppers, even though the grocer is out of their neighborhood.
"The store is clean and neat, offers a wide variety of products and has wonderful produce and meat departments," says Lamont.
"Their prices are decent," adds Moodie.
Hawaii Tropical Fruit Growers
Incorporated in 1989 to promote tropical fruit grown in Hawaii, HTFG is a statewide association of tropical fruit growers, packers, distributors and hobbyists dedicated to tropical fruit research, education, marketing and promotion; http://www.hawaiitropicalfruitgrowers.org.
The 21st Annual Hawaii International Tropical Fruit Conference is September 9-11 at the Keauhou Beach Resort. The event is geared for farmers, educators, orchard managers and proponents of sustainable agriculture.
The gathering is open to the public. Registration forms and fee schedule will be available in April at http://www.Hawaiifruit.net or by contacting Love at kenlove@hawaiiantel.net.