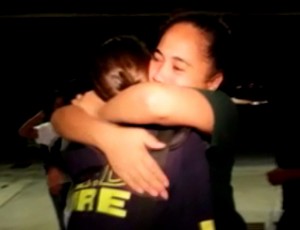 Video courtesy Baron Sekiya, Hawaii247.com | Voice of Stephanie Salazar
The new Hawaii girls basketball champions arrived home in Kona on Saturday evening, with the HHSAA trophy in tow.
Mayor Billy Kenoi was on hand to greet the team along with proud hometown fans and family at Kona International Airport. Kenoi declared Feb. 5 to be "Konawaena Wildcats Girls Basketball Day" in the County of Hawaii.
Coach Bobbie Awa led the Wildcats to the division I girls basketball championship game at the Neal Blaisdell Center on Friday evening, where top seeded Kona toppled Oahu rivals Punahou, 49 to 45, for the title.
In this video, courtesy Ed Young, the Wilcats are seen routing the Kaiser Cougars 57 to 32 in the Quarterfinals of the tournament.
Center and All Tournament First Team selection Anuhea Wall told Hawaii247 reporter Karin Stanton that the moment of victory was a great way to end her high school career.
"The when the buzzer went off I was exstatic that we won," Wall said, "and I was so happy that I got to end my senior season of high school basketball like that."