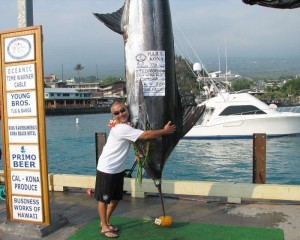 Media release | Hawaiian International Billfish Tournament
The highly anticipated 52nd Annual Hawaiian International Billfish Tournament (HIBT) gets underway July 25-29, 2011 in Kona, Hawaii. Built on prestige, trophies and strict International Game Fish Association (IGFA) rules for world records, anglers and teams from around the world will once again gather to fish the world-famous waters off the Kona Coast.
Excitement is building as more than twenty teams have already registered for this year's tournament. The 2011 HIBT team roster is filling as five teams from California, four teams returning from New Zealand and Australia, three teams from Japan and teams from Florida, Hawaii, North Carolina and for the first time in recent HIBT fishing, team Xtreme Anglers from Singapore make their appearance at the 52nd HIBT.
As in previous tournaments, HIBT event headquarters, retail and tournament control will be at King Kamehameha's Kona Beach. The public is invited to come to the Kailua pier and watch the boats line up across Historic Kailua Bay as fishing starts each day sharply at 7 a.m. At 4pm, boats return to Kailua pier with their team and catch.
The 2010 HIBT Governor's Trophy and first place went to Kona Game Fishing Club-Kusatsu. The tournament showcased 110 anglers fishing aboard Kona's finest sportfishing fleet. Fifty-four billfish including thirty-eight Pacific blue marlin were released among the teams, with eight Pacific blue marlin brought to the scales. But the story of the 2010 tournament went to HIBT team #8 Out Of The Blue from Waianae, Oahu. Fishing the last day of this five-day tournament, aboard the Miss Mojo, captained by Tio Kearney, angler Ted Morikawa boated a whopping 779-pound Pacific blue marlin, earning his team second place in this year's HIBT. As the largest fish of the day and the tournament, Out Of The Blue finished with 1479 points on the scoreboard.
About Hawaiian International Billfish Tournament
The Hawaiian International Billfish Tournament is underwritten by the generosity of the County of Hawaii and sponsored in part by Oceanic Time Warner Cable, KWXX Radio and numerous corporate and community donors.
For more information on the Hawaiian International Billfish Tournament, including team listings, IGFA world-record rules and a daily video recap of tournament standings, log onto www.hibtfishing.com.