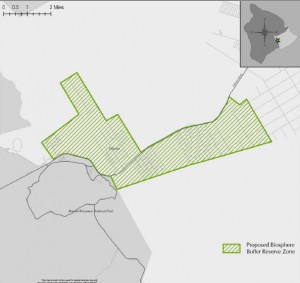 By Tim Bryan
The proposed Biosphere Reserve Buffer Zone is being vetted through out the community right now.
The biosphere buffer zone is mentioned as a land management priority in the Puna Community Development plan, which includes the area of Volcano Village.
Hawaii Volcanoes National Park has been recognized as an International Biosphere Reserve and a World Heritage Site, and because of that, adjacent land areas have the oppurtunity to develop projects, policies, and practices to manage, protect, and conduct research within designated areas.
Area residents Tim Tunison and Dan Taylor have been making appearances at meetings to promote the idea, like they did here at the Royal Hawaiian Estates meeting a month or so ago.
"You don't know how lucky you are really to be surrounded by protected forest," said Taylor at the meeting. "You've got this community parked in the middle of all that and there's an opportunity to blend the community with these protected lands around us through this biosphere reserve designation."
"You are going to hearing a lot more about it," Taylor continued, "and hopefully some of you will participate with us in setting the standard and deciding what its going to look like here, and what it will mean to you. But basically the idea is protect the rural quality of Volcano, to emphasize the unusual architecture of this community, to keep the roads narrow, keep the village quiet, to keep the nightlights down or out, and to prevent the establishment of nuisance industries."