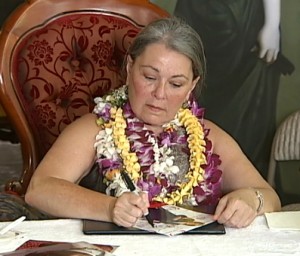 Media release – Lifetime Television
SERIES SET FOR 2011 FOLLOWS OUTRAGEOUS EXPERIENCE OF EMMY® AWARD WINNING ACTRESS, COMEDIENNE AND AUTHOR AS SHE SETS OUT TO RUN MACADAMIA NUT FARM IN HAWAII
LOS ANGELES, Feb. 14, 2011 /PRNewswire/ — Lifetime Television has ordered 16 half-hour episodes of an all-new docu-series featuring Emmy® Award-winning actress, comedienne and best-selling author Roseanne Barr, marking her return to television as she takes on her newest endeavor, running her farm in Hawaii.  The announcement was made today by Nancy Dubuc, Lifetime Networks' President and General Manager.  The series will premiere on Lifetime this year. 
The program, from 3 Ball Productions/Eyeworks USA (The Biggest Loser), will look at Barr's recent newfound life managing a fully-functional 40-acre macadamia and live stock farm on Hawaii's Big Island alongside her long-time writer-musician boyfriend Johnny Argent and son Jake.  Never one to back down from any challenge, she uses her take-no-prisoners approach to life in shaping a more utopian dream for herself and her loved ones as only Roseanne Barr can.  What ensues is a funny, outrageous and unfiltered look at the adventures of one of television's greatest stars transitioning into a new life that is a far cry from Los Angeles. 
"Roseanne Barr is an undeniable force of nature and the idea of following her in this unique premise excited us from the get-go," said Dubuc.  "Roseanne is funny and brutally-honest, and our audience will relate to her decision to go on this adventure and create an entirely new life for herself.  We are thrilled she will make her long-awaited return to television on Lifetime." 
Roseanne Barr said, "I'm coming back down to earth, and keeping it real.  They've said 'Roseanne's nuts' for years, and now I'm going to make that a reality – I'm all about nuts now, macadamia nuts!" 
The untitled Roseanne Barr series is produced by 3 Ball Productions/Eyeworks USA (The Biggest Loser, Extreme Makeover: Weight Loss Edition) and Full Moon & High Tide Productions.  Roseanne Barr, JD Roth, Todd A. Nelson, Brant Pinvidic, and Steven Greener are executive producers.  Jake Pentland (The Roseanne Show) will serve as producer. 
Barr is an Emmy Award-winning actress and New York Times bestselling author.  She started her career in stand-up comedy before landing her own television show, Roseanne, on ABC from 1988 to 1997.  She has returned to stand-up comedy in recent years and blogs regularly at roseanneworld.com.
EDITOR'S NOTE: The photo of Roseanne shown above was taken by Big Island Video News on Saturday, February 14, during a booksigning in Hilo, Hawaii. The video can be seen here.