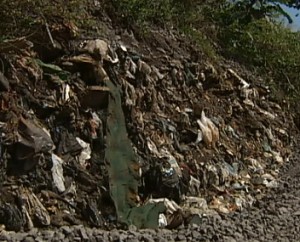 Video by David Corrigan | Voice of Stephanie Salazar
The big vote on reducing the use of plastic bags on Hawaii Island took place on Wednesday. North Kohala councilman Pete Hoffmann has been pushing for this law for some time now, and he managed to pass it through first reading with a 5 to 3 vote.
The original version of Bill 17 called for penalties for businesses that do not remove all plastic checkout bags from its premises, and replace them with reusable bags.
But on Wednesday, the Department of Environmental Management worked with Hoffmann to amend the bill, and eliminated the specifics on enforcement, putting it under the jurisdiction of the administration.
Department head Frank DeMarco said the law will be tough to enforce, given the current staff limitations.
The changes drew a mixed reaction from councilmembers. In addition, it was somewhat unclear – at first – if the changes had the full support of the mayor.
The plastic bag reduction bill did not have unanimous support from the council. In particular, Hilo's three representatives dissented.
Even councilmembers in support of the bill wanted to take more time to think things over. Just as it appeared that Hoffmann would move to postpone the vote, Kona councilman Angel Pilago and Brenda Ford spoke against a delay.
The encouragement apparently worked. Hoffmann withdrew his motion, the council voted 5 to 3 in favor, and moved the bill up to second reading, which is likely to be heard in a few weeks.