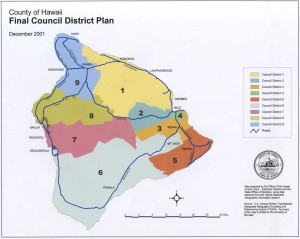 Video by David Corrigan | Voice of Stephanie Salazar
It has been called the most important commission to convene in Hawaii County this year, and according to the Chair of the County Council, it has already gotten off to a cloudy start.
The mayor submitted his list of the nine nominees to the Hawaii County Redistricting Commission on February 15th. The list reveals some well known and respected names in the community (see below), and Hamakua councilman Dominic Yagong says the names are not the problem. The issue, he says, is that the names were submitted too late.
He says the timing of the submission has forced the council to take the unusual measure of calling a special meeting on March 1st to deal with the approval of the nominees, but since the county charter dictates that the commission has to be in place by the next day, there is no way the council can choose to reject any of the nominees.
Yagong says the reapportionment is a very important process, which will determine the future political shape  of the council.
At the council meeting held in Hilo that day, a redistricting criteria bill – introduced by Brenda Ford – was passed on first reading. Ford hopes to establish the criteria for reapportionment before the U.S. Census numbers are released in March or April.
The nominees to the Redistricting Commission, submitted by Mayor Bill Kenoi:
District 1 – Valerie T. Poindexter
District 2 – Jeffrey M. Melrose
District 3 – John "Mike" Middlesworth
District 4 – Patrick L. Kahawaiolaa
District 5 – Rene Siracusa
District 6 – Linda Ugalde
District 7 – Susan Maddox
District 8 – Dru Kanuha
District 9 – Peter L. Hendricks