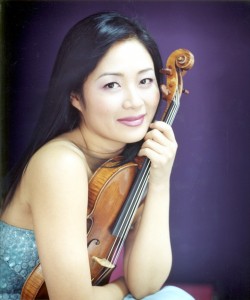 Media release | Hawaii Performing Arts Festival
Young artists from Hawaii interested in advancing their music education and careers have only a few days to apply for scholarships to attend the Hawaii Performing Arts Festival June 24-July 15 in Waimea on the Big Island. The application deadline is February 28, 2011.
Vocal and string students age 14 and up from Hawaii are eligible to receive assistance. They will have the opportunity to study and perform together in chamber music, operas and musical theater productions with renowned faculty from around the world including Brad Ellis, "The Piano Man" from the hit television show "Glee" and internationally renowned Korean violinist Chee-Yun as well as Ignace "Iggy" Jang, concertmaster of the former Honolulu Symphony.
In addition to study and performance opportunities, mentoring and networking, participants can go on beach, snorkel and hiking trips, and visits to ancient Hawaiian heiaus. Day trips to Volcanoes National Park can be arranged.
A scholarship covering tuition, room and board is valued at $3345.
To apply, visit www.hawaiiperformingartsfestival.org. Students will need to either upload an mp3 recording or mail a CD or DVD. Contact Angie Solomon at angie.hpaf@gmail.com for technical assistance or further information. Full and partial scholarships will be granted based on merit, financial need and needs of the festival.