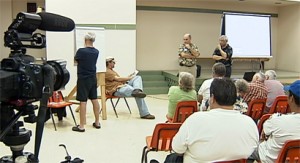 Video by David Corrigan | Voice of Stephanie Salazar
Another big Ka'u Energy Farm meeting was held in Pahala on Monday night, the second time Aina Koa Pono spoke with the community.
Last month, Hawaiian Electric Company and Aina Koa Pono announced a historic biofuels agreement at a press conference on Oahu. The plan involves using 13,000 acres of ag land in Pahala to produce biofuel for electric generation.
The community was thrown into upheaval after the surprise announcement. A meeting was quickly organized a few days later, and residents expressed concern over a wide range of issues, from the technologies that will be employed to the location of the facility.
On Monday, Aina Koa Pono representatives had more answers for the public.
One major update was made to the plan… representatives say they are now looking to locate the facility farther away from town, in the agricultural lands mauka of Pahala, closer to Wood Valley.
Aina Koa Pono made a lengthy presentation detailing the microwave thermal depolymerization technology, the preferred feedstocks, and how many gallons par acre are expected to be produced. Representatives assured the public that the project is economically sustainable.
However, some concerns expressed by residents were left unanswered. The company refused to disclose the price of the biofuels that will be sold to HELCO, saying it was proprietary information.
Also, some residents insisted that an evironmental impact statement should be written.
Former Ka'u councilman Guy Enriques took a vocal stance at the meeting, trying to get assurances from the company that the project will benefit the community as a whole, and not just the 300 hundred or so employees.
Aina Koa Pono says they plan to hold more meetings in the future.