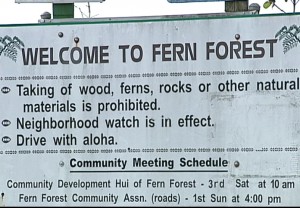 By Tim Bryan
As expected, the 2010 census revealed tremendous population growth in the Puna area, including some growing Volcano area subdivisions.
Hawaii Island led all other islands in population growth by percentage (25%), and the one district that led all others within the county was Puna.
While Hawaiian Paradise Park got a lot of attention with its 61.7% growth and 11,404 popualtion as of 2010, two Volcano area subdivisions cracked Puna's top three in growth percentage.
Eden Roc increased its numbers by nearly 109% percent, from 451 in the year 2000 to 942 in the year 2010. Fern Forest subdivision was in third; its population of 480 in 2000 grew to 911 this year, a change of 94%.
Only the nearby Fern Acres in Puna and Hawaiian Ocean View Estates in Ka'u grew by a larger percentage.