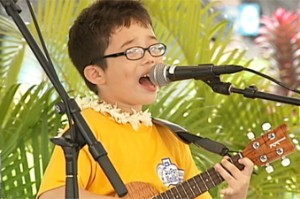 Video by David Corrigan | Voice of Stephanie Salazar
Yesterday we brought you scenes from the Great Waikoloa Ukulele Festival… and the talents of Kris Fuchigami.
Today, we show you another young artist from the same event held at the Queen's MarketPlace at the Waikoloa Beach Resort… a pint sized player who has already performed on ukulele in front of millions… on YouTube, that is.
9 year old sensation Aiden Laprete Powell became a star in a popular viral video around the world for his rendition of Hey Soul Sister by Train.
Now, under the direction of Roy Sakuma, he is expanding his repertoire, although he still has the crowd favorite in arsenal. Recently added to his playlist: the theme of Hawaii 5.0