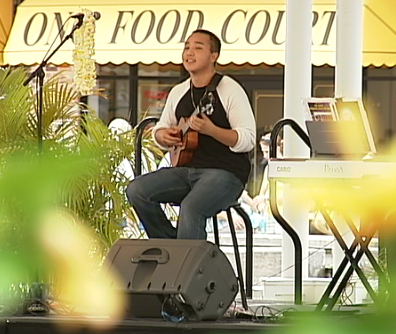 Video by David Corrigan | Voice of Stephanie Salazar
This Saturday, the 11thth Annual Great Waikoloa 'Ukulele Festival was held at the Queens' MarketPlace at Waikoloa Beach Resort.
Hundreds attended the day long festival, showcasing the best in local ukulele talent.
Roy Sakuma and wife Kathy created the first annual 'Ukulele Festival in 1971, while Roy was a maintenance worker for the City and County of Honolulu. Today, their efforts have grown into a series of events on four islands, with over 20,000 participants.
Taking the Coronation Pavillion stage on Saturday was ukulele virtuoso and Hilo native, Kris Fuchigami… who entertained the crowd with his lightning fast finger licks and light-speed song renditions.
Fuchigami was born in 1990, and has attended Keaau Elementary, Middle, and High School. He credits his idol and friend Jake Shimabukuro for getting him interested in playing the ukulele.
He now writes his own music and tours the country sharing his talents, pushing the limits of what the instrument is capable of as he goes along. His latest album, Untouchable, is available on his website: krisfuchigami.com/
Pay us a visit everyday this week, as we showcase other prodigious talents from the this year's Great Waikoloa Ukulele Festival.