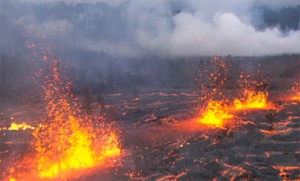 Eruption video by Mick Kalber, Tropical Visions
Video by David Corrigan | Voice of Tim Bryan
By now, most of the world has heard the news of Hawaii's latest geological activity. This incredible fissure tore open the earth in the middle east rift zone, between Puu Oo and Napau Crater on Kilauea volcano, not too long after the Puu Oo crater floor collapsed.
Chances are, if you saw the video on world news networks, this was it… a dramatic helicopter flyover showing the new, spattering fissure.
If it weren't for quick thinking of "vulcanographer" Mick Kalber, the world would not have these pictures to enjoy, since there is now a no-fly zone in effect over the area. But then again, Kalber has been doing this for a long time.
From his home a safe distance away in Hilo, Kalber re-lived the day of the new eruption for Big Island Video News, while sharing this incredible video with our viewers.
Kalber says these are the moments that inspire his continued work, documenting the island's awesome volcanic activity.
And a side note to change in the eruption… although it does appear as if the homes in Kalapana Gardens will be spared the threat of lava for the time being, it looks like the rest of the island will have to endure increased vog. The Hawaiian Volcano Observatory says the new fissure is emitting 10,000 tonnes of SO2 a day, the highest rate measured on the east rift zone since July 2008, which was around 700 tonnes a day.