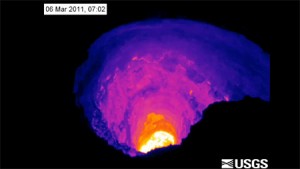 Video courtesy USGS – Hawaiian Volcano Observatory

Its easy to forget about all the incredible changes at Kilauea Volcano on Hawaii Island when there is a catastrophic tsunami threatening the Pacific.
As the eyes of the world watched the surging waters around Hawaii following the 8.9 earthquake in Japan, attention was diverted from last week's well documented fissure eruption on Kilauea's middle east rift zone. The activity had slowed down somewhat from when it first burst forth from the earth on March 5th, so Pele was not competing for anyone's attention. Still, with all the helicopter shots and time lapse images, there was one last video to be unveiled: the draining of lava from the Halema'uma'u summit vent.
The lava lake at Halema'uma'u had been thrilling scientists and visitors with its steady creep towards what many thought might be an eventual overflow into the Kilauea caldera. But with the deflation associated with the fissure eruption, the lake was sucked back into the deep vent cavity over the course of days.
According to the Hawaiian Volcano Observatory, this video shows, "a sequence taken from a thermal camera looking into the Halema`uma`u vent cavity between March 5 and 7. Tremor and deflation began at about 1:42pm on March 5, and this was shortly followed by draining of the Halema`uma`u lava lake. Before the draining, the lava lake was about 75 meters below the rim of the vent cavity, and about a day later the lava was about 220 meters deep, having retreated to the bottom of the vent cavity."