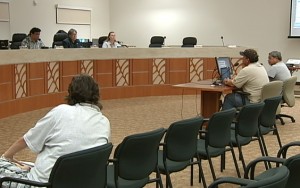 Video by David Corrigan

The Hawaii County Council called a last minute emergency meeting on Saturday evening. The local lawmakers met at the new West Hawaii Civic Center for the first time, and teleconferenced with east side councilmembers in Hilo, as well as Hawaii County Civil Defense director Quince Mento.
Mayor Billy Kenoi was alos at the meeting, and he provided the councilmembers with an update on his administration's survey of the damage, conducted earlier that day.
Councilmember Dominc Yagong said that the meeting needed to be held in order to ensure that issues related to water and roadways were under control after the 9.0 earthquake sent tsunami waves crashing along the Big Island's leeward coast. Yagong also said he wanted the answers provided by the administration to be part of the public record so residents could be better informed. He reminded everyone that Hawaii is under a state of emergency, signed by the governor.
After an executive session followed by council Q&A with Kenoi, the mayor excused himself and his staff, who had been operating for hours on end with minimal rest.
After the mayor left, the remaining councilmembers spoke about their own experiences since the tsunami hit, and some even pushed the issue of the island's need for more emergency infrastructure. Pete Hoffmann mentioned tsunami sirens, while Brittany Smart reiterated the need to release the funds for an emergency shelter in Pahala.
We will have more info on Brenda Ford's inquiry into the situation at Napoopoo, the particularly hard hit village in her South Kona district, where she has spent a lot of time in the last few days. We will also have more video from the field at Napoopoo, and the extraordinary community cleanup underway.