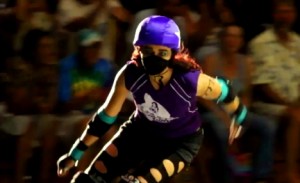 Video courtesy Baron Sekiya, Hawaii247.com | voice of Stephanie Salazar
The Paradise Roller Girls held their second Hilo bout before a huge crowd at the Afook-Chinen Civic Auditorium this weekend.
This time, the opponent was Kauai's "Garden Island Renegade Rollerz."
The competitive bout tested the strength, teamwork and agility of the East Hawaii-based Paradise Roller Girls, many of whom recently returned from an intense three-day derby training camp on Kauai dubbed "Lei'd on the Track."
But the visiting team was unrelenting in their assault this weekend, winning the contest 131-101.
Paradise Roller Girls is a women's flat track roller derby league based out of Hilo, Hawaii. The league began in February 2010 with a small group of thrill-seeking women looking for good fun in a quiet town. Now, more than 60 women are part of the spirited "warriors on wheels" group, which holds practices five times a week throughout East Hawaii.