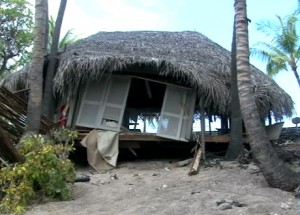 Video courtesy Lynn Beittel, Matt Binder of Visionary Video
By now, Hawaii is familiar with the damage sustained at Kailua-Kona tourism hotspots like Alii Drive and the King Kamehameha Kona Beach Hotel when a tsunami generated by the 9.0 earthquake in Japan swept the leeward shore.
The luxury hotels along the Kona coast also took a beating. On Wednesday, these video images from the Kona Village Resort were captured, showing the numerous hale, or island-style luxury bungalows, that were damaged by Friday's surge. Some were even knocked off their foundations.
In this video, Patrick Fitzgerald, CEO of Kona Village Resort, talks about the evacuation and the damages at the seaside destination.
Fitzgerald says all guests were safely evacuated and there were no reported injuries. The Kona Village Resort remains closed.
From the resort's website: "Note that our phone lines are now working and you can reach us at (808) 325.5555 or toll free (800) 367.5290. As you can imagine we are unusually busy tending to guest queries so please be patient if you need to call.
"Thank you for your understanding and support during this difficult period. The Kona Village Resort Ohana are very grateful for such wonderful guests and our thoughts and prayers are with the people of Japan."