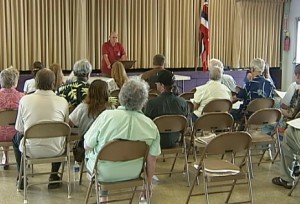 Video by David Corrigan | Voice of Stephanie Salazar
This weekend, Department of Water Supply head Milton Pavao faced the music in Hawaiian Ocean View Estates, during a talk story with Representative Bob Herkes and State Senator Gil Kahele.
The remote Ka'u subdivision has been waiting for the completion of a county water well, but the project has suffered delays and coast complications. Rep. Herkes even spearheaded a statehouse investigation into the situation.
On Saturday, residents had the chance to sound off on the subject. In an interview with BIVN, Senator Kahele said he recognizes the well project as an important issue facing the sprawling private subdivision.