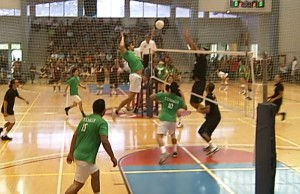 Video by David Corrigan
Another large crowd turned out this year for the annual Haili Volleyball Tournament at the Hilo Civic this holiday weekend.
This was the 54th time the tournament has been run in Hilo.
The big winners of the event in the AA division: men's team Cudags outplayed RZN and took the title in two straight sets 25-23 and 25-16.
The Oahu team included Big Island native Aaron Maluo, and was powered by the dominating play of James Butler and Dioniso Dante, outmatching their opponents at the net.
Meanwhile, the Rusty Wahine defeated the Hi-Intensity Sawaiians 24-26, 25-19, and 15-9 to take the women's AA championship.
The Rusty Wahine – made up of former UH greats – were undefeated in the tournament.
The video below shows the first set of the AA mens final, the closer of the two sets between the teams.