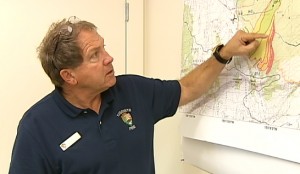 Video by David Corrigan, photos by National Park Service | Voice of Tim Bryan
The big brush fire that has destroyed over 2000 acres of National Park land is nearly 100% contained.
The brush fire, which was started by lava from the now dormant Kamoamoa fissure eruption a few weeks ago, was 80% contained as of Sunday evening. Firefighters experienced very little fire activity due to lighter than expected trade winds and 24 hours of rain; over an inch of rain has fallen on the fire area.
On Saturday, the Napau Fire Information Officer gave Big Island Video News a look at the strategy being deployed by firefighters, in an attempt to save the Special Ecological Area kipukas, threatened by the blaze.
The Chain of Craters Road is re-opened. Drivers are urged to be diligent while driving, particularly near the hair-pin turn, as firefighters and fire engines are on the road.
Meanwhile, the pause in volcanic activity at East Rift Zone appears to be over.
After a 17-day pause in eruptive activity, lava is once again visible Pu'u 'O'o crater. HVO Webcam images (http://volcanoes.usgs.gov/hvo/cams/POcam/) showed lava slowly filling the deepest parts of the crater on Saturday.
On March 5, the Pu'u 'O'o crater floor, on which nearly 75 m (250 ft) of lava had accumulated during the past year, began to collapse around 2:00 p.m. Three hours later, a fissure opened southwest of Pu'u 'O'o and began erupting fountains of lava from active vents that eventually extended to Napau Crater.
Lava continued to erupt from the Kamoamoa fissure until the night of March 9, when all activity on Kilauea's east rift zone paused. Since then, no lava had erupted from east rift zone vents until this weekend.