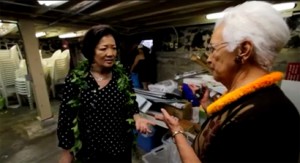 Video courtesy Baron Sekiya, Hawaii247.com | Voice of Stephanie Salazar
On Saturday, U.S. Congresswoman Mazie Hirono surveyed the area of downtown Kailua-Kona – recently damaged by the tsunami.
Hirono has vowed to help secure federal funds for the hard hit areas of Kona, which bore the brunt of the tsunami in the state of Hawaii.
The congresswoman stopped by Hulihee Palace to speak with caretaker Aunty Fanny Au Hoy and to get an update on the restoration of the grounds after the damaging surge.