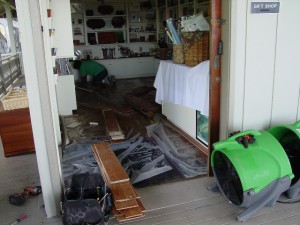 Video courtesy Lynn Beittel, Matt Binder of Visionary Video
A few days removed from the tsunami surge that damaged many of the businesses along Alii Drive in Kailua Village, caretakers of the Hulihee Palace work to dry out the historic grounds.
The volunteer Daughters of Hawai'i and Calabash Cousins have been working non-stop since Friday to salvage the contents of the palace. Partial electricity has been restored. The heartbreaking process of cataloging the damaged artifacts in underway.
Volunteers report that the palace's newly renovated caretaker cottage didn't fare so well. It is off its foundation and the adjacent Ki'ope Pond, which was used in ancient times by Hawaiian royalty for aquaculture, suffered damage to its walls. The next-door Kuakini Building, which houses the palace's kitchen and gift shop, suffered interior water damage. The palace's gift shop, which needs a new floor, will remain closed until further notice.
The top of the seawall along the oceanside lawn of the palace was also damaged, as well as large swaths of sod.
Luckily, the main floors of Hulihe'e Palace were spared the wrath of Friday's tsunami.
The palace reopened in September 2009 after receiving a $1.5 million renovation to repair damage suffered in the October 2006 earthquake.
Although the palace remains closed pending a structural assessment this week, two upcoming outdoor events are still happening as scheduled.
First, this Sunday's 4 p.m. band concert is confirmed. Also, the annual palace fundraiser, Day at Hulihe'e, is on for 9 a.m.-4 p.m. Sat., March 26.
Caretakers say donations are greatly appreciated and can be mailed to Hulihe'e Palace, 75-5718 Ali'i Drive, Kailua-Kona, HI 96740. For information, phone 329-1877.