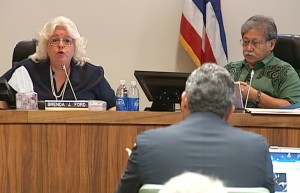 Video by David Corrigan
The Hawaii County Council chamber in Hilo was packed with department heads and county employees on Monday, as the lawmakers began the process of reviewing the administration's budget.
Front and center sat Mayor Billy Kenoi, who was the first to answer questions on the council's departmental review. Kenoi presented a proposal for a balanced budget to the council on March 1st, without new taxes or employee layoffs.
But his critics on the council say that the proposal puts too much of a burden on the future.
South Kona councilwoman Brenda Ford, the chair of the Finance Committee, went head to head with Kenoi, arguing over philosophical differences, and also semantics. The mayor took isue with Ford's use of the word "deferred" in reference to a proposed payroll lag that would save $6 million this fiscal year.
This video shows the lengthy back and forth between Ford and Kenoi that played out over the course of the presentation.
The council will be conducting reviews, department by department, over the next two days in Hilo.