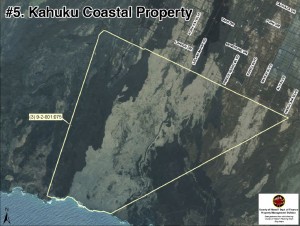 Voice of Stephanie Salazar
The Hawaii County Council Finance Committee will vote on whether or not to authorize the acquisition of the Kahuku Coastal property in Ka'u on Tuesday.
The property – which contains numerous historical and cultural sites, precious dryland forest kipukas, an anchialine pond complex, and a mile of ocean frontage – is over 3,000 acres in size.
If resolution 49 is approved, the Kahuku lands would be purchased using open space funds.
The property was identified as number 5 on the 2009 public access, open space and natural resources preservation commission report to the mayor.
Ka'u councilmember Brittany Smart's resolution says the land is for sale, and the property owner has had the land appraised and is willing to sell at the appraised value.