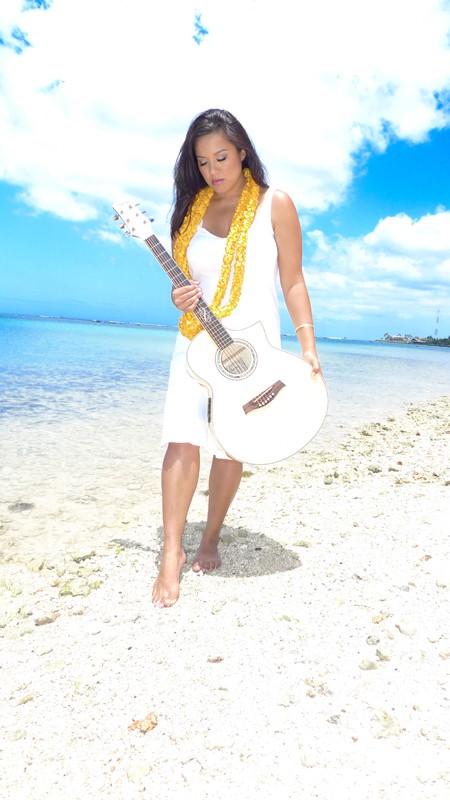 Media release | Volcano Art Center
Celebrating the release of her new CD, 'A-ina, Mailani and her band will be performing a concert on Saturday evening, May 7th at 7:00 pm at the Kilauea Theater for Volcano Art Center. "This is going to be an amazing night of great Hawaiian music, Mailani's songwriting and singing talents are matched by few. Volcano Art Center is honored to bring such an accomplished artist to the Big Island. As this will be the last concert at the Kilauea Theater for the VAC music season as the new season begins in October. We will also be celebrating her new CD and bringing it to the Big Island for everyone to hear. We have set up a meet and greet CD signing at Basically Books at the Hilo Bayfront at 1:00 pm the day of the concert so that all of the Big Island communities can come and enjoy her beautiful work. I hear there may even be an acoustic set at Basically Books but you will just have to come and see" teased VAC Concert Coordinator David Wallerstein.
Singer-songwriter Mailani Makainai features her beautiful, unique voice and original songs that have endeared her to Fans in Hawai'i and around the world. Mailani, who grew up in Kailua Town on O'ahu's Windward Coast, is part of a musical family. She started signing at the age of two and taught herself 'ukulele while in high school. It was at Maryknoll Schools that she met Lei Melket, with whom she later formed Keahiwai. Keahiwai released its first album, "Local Girls," in May 2001. "Local Girls" garnered the duo two Na Hōkū Hanohano Awards and growing acclaim. Their sophomore album, "Satisfied," was released the following year in 2002, and included the hit song "Falling." The duo went on to release three additional award-winning albums and tour throughout Polynesia and the West Coast. Mailani, who balanced her music career with college, went on to graduate from the University of Hawai`i at Mänoa with a Bachelor of Arts degree in Hawaiian Studies. Subsequently, she built on her interest in the healing arts by becoming a licensed massage therapist and a practitioner of lomilomi. In 2003 and 2004, Mailani was honored to perform at the Merrie Monarch Festival in support of Halau Mohala 'Ilima with Uncle Kihei, Aunty Mapu, and their daughter Kapalai'ula de Silva. In 2006, Mailani was invited to do a podcast with Doctor Trey and Jroq that focused on the Hawaiian music industry. This involvement led her to begin a new project with two other women in the industry, Jenn Jroq Wright of Kanalo and Simple Souls, and Tiki Suan from Milo Shade. Together, they formed Mighty J and in 2007, released the album "Calling Out." Mailani continues to explore new ventures, most recently opening a boutique day spa in the Kalihi.
On the heels of Mailani's self-titled debut solo album, which garnered her the prestigious "Female Vocalist of the Year" Award, comes her brand new CD entitled `A-ina.  (English translation: Earth, land) With her feet well planted in the "'aina," this brave artist continues to challenge herself with each project.
Tickets for Mailani's performance on Saturday, May 7 are $35.00 for section A and $20.00 for section B. Call David Wallerstein at 808-967-8222 for tickets or visit the Volcano Art Center Niaulani Campus or the VAC Art Gallery. Visit www.volcanoartcenter.org for information and to purchase tickets online. Tickets are also available the evening of the performance 1 hour before scheduled concert time at the venue.
Volcano Art Center is a 501c3 nonprofit educational organization created in 1974. VAC promotes, develops, and perpetuates the artistic, cultural and environmental heritage of Hawai'i through the arts and education.