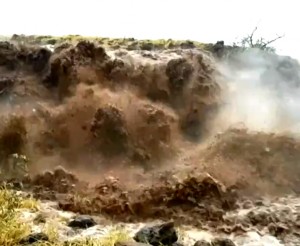 Video courtesy Derek Schoenhoff | Voice of Stephanie Salazar
There is some impressive video making its way around the internet showing the recent flash flooding in Waikoloa.
This video, seen on YouTube and local news stations, was filmed by Pastor Derek Schoenhoff on Wednesday afternoon.
The normally dry ravine was overflowing with rushing rapids, a result of heavy rains in the mauka areas of the Big Island. The county was under a flash flood warning at the time.
The raging torrent of water also forced officials to shut down Highway 190.
Residents of the area know that these empty ravines can fill up fast on the dry leeward side of the island, where percipitation can be rare. This sort of occurance during heavy rain events has been well documented in the past.
FULL VIDEO from Derek Schoenhoff, on YouTube: