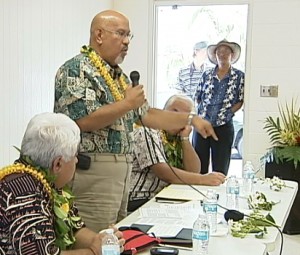 Video by David Corrigan | Voice of Stephanie Salazar
A community meeting offering a "Hawaiian Perspective on Geothermal Development on Hawaii Island" was held this Saturday in Pahoa.
The moderator was Patricia Brandt, the CEO of the Innovations Development Group, or IDG.
IDG promotes a "Native to Native model" for renewable resource energy development. One of the main topics of discussion: possible future models of compensation – or royalties – that the Hawaiian people may try to enact for the right to develop the island's geothermal resources. 
A panel of speakers included Mililani Trask, a Hawaiian attorney who is well versed in the different models of royalty compensations given to native peoples for use of their island's geothermal resource.
Another panelist, Kale Gumapac, advocated for the establishment of a Kanaka Natural Resource Company, owned and operated by po'e kanaka.
Also speaking on the panel, Ku'ulei Kealoha Cooper, whose Kealoha Estate encompasses over 500 acres in Pohoiki, 89.3 acres of which are in a geothermal sub-zone.
Also on hand, OHA Trustee Bob Lindsay, and IDG Cultural advisor Cy Bridges.
The two co-chairs of the recent Geothermal Working Group, Wallace Ishibashi and Richard Ha, were also in attendance. Ha even spoke about what he says is the dire need to make geothermal the primary source of power on Hawaii Island.
The large crowd also included a number of state legislators and local leaders.
But not everyone in attendance was sold on the idea of geothermal. Local taro farmer Jerry Konanui said that there needs to be more community meetings held before numbers and percentages can even be discussed.