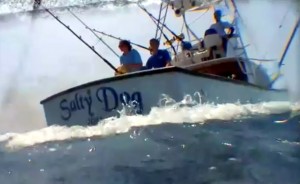 Video courtesy Farish Media | Voice of Stephanie Salazar
A Kona based sportsfishing show, produced by a local media company, is set to make its national TV debut.
Salty Dog Sportfishing Hawaii is a 30-minute, 13-episode television series produced by Kona's Farish Media that follows the Lattof family of Kona, Hawaii in their pursuit of large Pacific blue marlin aboard the Salty Dog in the waters of the Big Island.
Producers say the show combines exhilarating fishing action with the history of the sport, marlin science, proven angling techniques, cutting-edge graphics, and Hawaiian culture.
From the media release:
Kailua-Kona, Hawaii– Salty Dog Sportfishing Hawai'i makes its television debut nationally, regionally and statewide in April and May. The series will make its national debut on Friday, April 29 on Versus, now part of the NBC Sports Group. It premiered on CSS Sports (Cable Sports Southeast) on Saturday, April 2. On Wednesday, May 4, OC16 welcomes the series to their statewide lineup.

Salty Dog Sportfishing Hawai'i is a 30-minute, 13-episode television series that follows the Lattof family of Kona, Hawai'i and Orange Beach, Alabama in their pursuit of large Pacific blue marlin aboard the Salty Dog in the beautiful waters off the Island of Hawai'i.

"This show is about Kona, for Kona, by Kona," says series producer/director Mason Farish. "There's never before been, that I can think of, a national series where every episode was shot exclusively on the Island of Hawai'i or in Kona. Everything is done here – from shooting to editing to closed captioning. I was thrilled and honored when Capt. Mitch Lattof came to us with his idea and asked if we could help make it a reality. He wanted this show to be unlike anything else on TV, and I think we've accomplished that."

Dave Vinton, OC16 Sports Director, agrees. Salty Dog Sportsfishing Hawai'i sets a new mark for excellence in local, Hawaii based television production," says Vinton. "You'll be blown away by the quality of video and graphics but what will really 'hook' you is the wonderful stories that unfold in the series."

Each episode of Salty Dog Sportfishing Hawai'i combines exhilarating fishing action with history of the sport, marlin science, proven angling techniques, cutting-edge graphics, Hawaiian culture, the spirit of aloha and ohana, plus the beauty of Hawai'i. Underwater, aerial, chase boat, and multiple on-boat HD cameras capture the fishing action from all angles.

Marlin Science segments, hosted by Andrew West, Ph.D., cover topics such as the anatomy, migration, life cycle, behavior and conservation of the Pacific blue marlin. Grander Moment segments share the captivating stories of legendary Kona captains who have caught granders (marlin weighing 1000 lbs or more) in Hawaiian waters.

Fishing is truly in the blood of the Lattof family, who recently made Kona their second home. Executive Producer Capt. Mitch Lattof grew up on the docks of Trent Marina, which was built by his grandparents in Orange Beach, AL in the late 50s. He was researching big game fishing by the age of 9 years old (when he caught his first blue marlin) and knew then that he needed to get to Kona to learn from the best. "The top guys in the world are here", says Capt. Mitch. "No matter where else I looked, Australia, Madeira, or Brazil, it always seemed like the top fishermen were from Kona and just doing a stint there. The only reason we ever catch a fish is because I've had the pleasure of fishing with and learning from these amazing men."

Capt. Mitch's sister Ashton, the featured angler of the series, tagged right along after her big brother and feels the same way about Kona. "The fishing is just so much better here than anywhere else in the world." In 2008, Ashton caught her largest fish to date, a 748 lb. Pacific blue marlin on the Salty Dog here in Kona with Capt. Mitch.

Ashton and Mitch's parents, Sissy and Mitch, Jr. (aka "Big Daddy"), feel blessed to have been able to raise their kids in the small fishing community of Orange Beach, Alabama, where faith, family and friends were such an integral part of life. Now, living part-time in Kona, they see these same values treasured in the Hawaiian culture.

Mason Farish also grew up in Alabama and has made Kona home for over 17 years. "As a kid, I was fascinated by TV and movies, especially westerns," says Farish. "Little did I know then that one day I'd have the privilege of producing a TV series featuring the favorite getaway and pastime of my idols – Richard Boone (Paladin from "Have Gun – Will Travel), Lee Marvin and John Wayne – who spent many days fishing and relaxing in Kona in the 50's and 60's."

Regina Farish, producer and marketing coordinator for the series, adds, "Bringing this series to life has been hard work, long hours and times of frustration and joy. But above all, it's been a hugely collaborative effort by a fantastic team at Salty Dog Productions and Farish Media. Thanks to Capt. Mitch for bringing us on-board with his great idea."

Season Two of Salty Dog Sportfishing Hawai'i will begin filming in May. Seasons 1 and 2 will be seen on Versus and OC16 through spring of 2012.

Versus, seen locally in Hawai'i on Oceanic Time Warner Cable channels 210 and 1210 (HD), reaches over 75 million households in all 50 states and is the home of NHL Hockey, NBA, college football and basketball, boxing, IZOD Indy Car series, cycling, Professional Bull Riders, NASCAR and an extensive lineup of original outdoor programming. Salty Dog Sportfishing Hawai'i will every Friday at 2:30 p.m. ET/8:30 a.m. HT.

CSS Sports reaches over 6 million subscribers in 13 U.S. states (Alabama, Arkansas, Florida, Georgia, Kentucky, Louisiana, Mississippi, North Carolina, South Carolina, Tennessee, Texas, Virginia, West Virginia). CSS Sports is a 24 hour channel featuring college sports from the ACC, SEC, Sun Belt, Conference USA, Atlantic Sun, and Gulf South conferences. Each year CSS Sports broadcasts over 285 LIVE college football, baseball and basketball games, as well as sports news, in-depth sports analysis, golf and original outdoor programming geared toward fans in the south. Salty Dog Sportfishing Hawai'i will air Saturdays and Mondays at 9:00 a.m. ET.

OC16 reaches over 430,000 homes throughout Hawai'i via Oceanic Time Warner Cable. OC16 proudly features 100% original, 100% local, family-friendly programming and is the only local television station streaming live on the internet 24/7 at www.oc16.tv. Salty Dog Sportfishing Hawai'i will air Wednesdays at 9:30 p.m., Thursdays at 1:00 p.m. & 3:30 a.m., Fridays at 9:00 p.m., Saturdays at 1:00 p.m. & 3:00 a.m. and Mondays at 3:00 p.m.

Salty Dog Sportfishing Hawai'i is produced by Farish Media, Inc. in association with Salty Dog Productions, LLC