By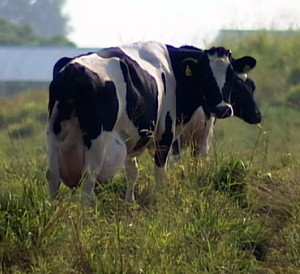 Stephanie Salazar
Minuscule levels of radiation have been detected in Hawaii's milk supply.
Radiation has been a concern since the March 11th earthquake and tsunami that damaged nuclear power plants in northern Japan.
State Environmental Health Division Administrator Lynn Nakasone said Hawaii's milk is totally safe and that while the levels are up slightly, the trace amounts of radiation found in Hilo's milk that was tested this week are far below the FDA warning thresh hold.
Big Island milk is regularly monitored, but health officials say levels of radiation in milk were measured at 18 picocuries per liter, too small to have any health impact. The Federal Drug Administration's warning threshold is 4,700 picocuries per liter.
Hawaii has monitoring stations to track radiation levels in the air, and Nakasone said those levels have been slowly dropping.
The state Health Department hopes to begin testing catchment water at several sites, including two sites on the Big Island, by next week.
Radiation from the Japanese power plant blasts last month prompted the state health department to quickly advise the public against ingesting potassium iodide or KI as a precaution against possible radiation exposure. Officials  say it it is NOT an effective precautionary measure. However, the health department web site has posted radiation information related to the 2001 japan earthquake and tsunami on its web site (http://hawaii.gov/health/BT/Radiation.html)
The release of radiation occurred from two nuclear reactors in Japan that were damaged in the March 11th earthquake and tsunami.