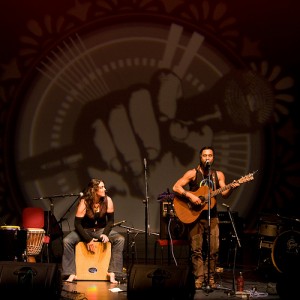 Media release | Volcano Art Center
The Volcano Art Center is presenting a fundraising concert on Friday, April 15 at 6:00 pm at Hale Ho'omana Performance Hall for a great friend and an amazing musician, Nahkohe Parayno. "Nahko has been a friend of the Volcano Art Center for a long time, he and Medicine for the People performed at Niaulani. Nahko shared his skills and taught our keiki about guitar, music, and the environment during children programs at VAC. Nahko was partially blind since birth and is going to have eye surgery in May on the mainland. It is going to be a struggle, both physically and financially and we want him to know his friends are always here for him because that is what we do on the Big Island, we look out for each other. Your $10.00 ticket will go toward helping make this trip for Nahko a lot easier and you get to enjoy a 2 hour concert from Medicine for the People, a win/win for everyone!" stated Volcano Art Center Concerts Coordinator David S. Wallerstein.
Nahkohe Parayno, a sixth generation Apache/Mohawk with his Cheyenne name given to him by his grandmother. Born, raised, and blessed in the suburbs of Oregon by his adopted family, Nahko found roots in music and throughout his teens taught piano lessons and directed musical productions for local high schools. His talent on the keys eventually got him signed to a seasonal production in Denali, Alaska. In the grandeur and majesty of the wilderness is where he began to discover his "truth" and began to understand the direction that his life must take. Activating his audience with stories of a "humbled walk upon this precious earth", Nahko's ability to criss-cross generational wisdom and inspire in the struggle of classism, racism, indigenous rights in Native America and abroad, environmental justice and sparking a fire of ambition to live the change and shift with the Aina for a more sacred walk with his "Spirit". He is currently on tour with Medicine for the People Music on the Big Island. Nahko calls the Big Island of Hawaii his home. He works and lives on his brother's "off the grid" farm on the Hamakua Coast. He cleverly weaves old traditions with modern day paradigm conditions and Medicine for the People focuses on lyrically based music – dubbed as "spirited thump-hop storytelling" and promoting sustainability, green energy, and healthy living through music.
Tickets for Medicine for the People Fundraiser performance on Friday, April 15 are $10.00. Call David Wallerstein at 808-967-8222 for tickets or visit the Volcano Art Center Niaulani Campus. Visit www.volcanoartcenter.org for information and to purchase tickets online. Tickets are also available the evening of the performance 1 hour before scheduled concert time at the venue at Hale Hoomana.
Volcano Art Center is a 501©3 nonprofit educational organization created in 1974. VAC promotes, develops, and perpetuates the artistic, cultural and environmental heritage of Hawai'i through the arts and education.