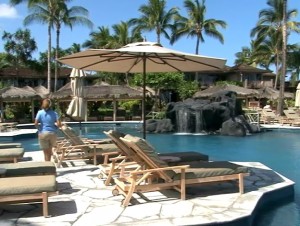 Video courtesy Lynn Beittel, Matt Binder of Visionary Video | Voice of Stephanie Salazar
6 weeks after destructive tsunami waves forced the closure of the Four Seasons Resort Hualalai, the upscale vacation destination re-opened for guests on the sunny Kona coast on the Big Island of Hawaii.
Employees – who were not furloughed during the closure – worked to prepare the grounds before the 11 a.m. opening on Saturday, April 30th.
The umbrellas were put back at the Beach Tree Bar and Grill, walkways were scrubbed, and beach chairs were placed by the King's Pond, which appeared to be in excellent condition.
While the Four Seasons Hualalai has made a complete comeback, the neighboring Kona Village Resort, which suffered severe damage from the tsunami – has been closed indefinitely. Of the hundreds that were laid off as a result, some have found an opportunity at the Four Seasons, which is under the same ownership.