Media release | Big Island Film Festival
KOHALA COAST, HAWAI'I — Twelve films received Golden Honu Awards at the 6th Annual Big Island Film Festival today. Best Feature went to "Queen of the Lot," starring Tanna Frederick and Noah Wyle, written and directed by Henry Jaglom, produced by Rosemary Marks.
Celebrity actresses Sarah Wayne Callies ("The Walking Dead") and Hilo's own Kristina Anapau ("Black Swan") were present to receive special "No Ka Oi" awards from Big Island Film Festival Executive Director Leo Sears.
Winners were selected from 63 entries from across the country and around the world, including 10 made in Hawai'i. The made-on-Maui film, "Get A Job," starring Willie K, Eric Gilliom, Augie T, Henry Kapono and many other top Hawaiian entertainers, won 2011 Audience Choice Feature.
"Get A Job" screens tonight at the Best of the Fest event at The Fairmont Orchid, Hawai'i Plantation Estate, along with Henry Kapono in concert and Audience Choice short "The Historian Paradox." Doors open 4:30 p.m.; concert begins at 5:30 p.m.; movies begin at 7:30 p.m. Beach chairs welcome, no coolers please. (Free parking).
2011 Big Island Film Festival Golden Honu Awards:
Actress "No Ka Oi"
Sarah Wayne Callies
Actress "No Ka Oi"
Kristina Anapau
The Barbara Award
"Regular Kids"
Best Family Short
"The Green Tie Affair"
Best Animated Short
"Bait"
Best Hawaiian Short
"Layover, On the Shore"
Best Foreign Short
"Futility"
Best Student Short
"Thief"
Best Short
"Wounded"
Best Family Feature
"Trainmaster II: Jeremiah's Treasure"
Best Student Feature
"Farmer's Tan"
Best Hawaiian Feature
"Get A Job"
Best Foreign Feature
"The Drummond Will"
Best Feature
"Queen of the Lot"
Audience Choice Short
"The Historian Paradox"
Audience Choice Feature
"Get A Job"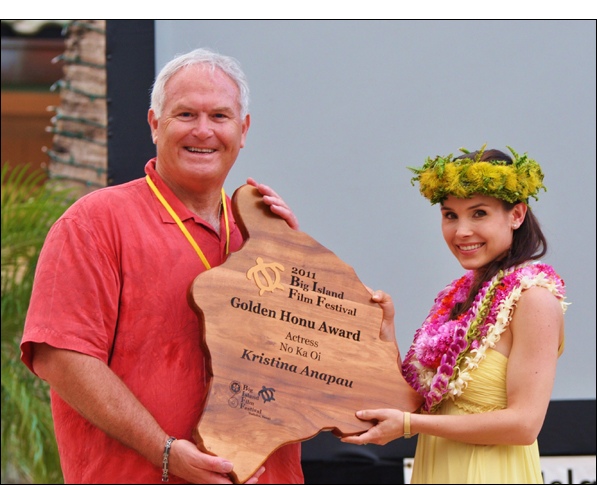 photo by Devany Vickery-Davidson:  Leo Sears and Kristina Anapau at BIFF 2011