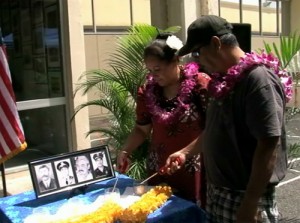 Video courtesy Hawaii County Police Dept. | Voice of Stephanie Salazar
Police Week festivities are currently being held on the Big Island.
A formal ceremony was held on Monday at the Hilo Police station, with another held in Kona the following day. Both ceremonies included entertainment and a tribute to Hawaii County police officers who gave their lives in the line of duty.
Police Week is a nationally recognized week of activities in support of police work and in recognition of officers who have died or been disabled in the line of duty. In 1962 President John F. Kennedy proclaimed every May 15th as Peace Officers Memorial Day and the week it falls in as Police Week. In Hawai'i County, Police Week activities this year are scheduled from Monday, May 16, to Friday, May 20.
Here on Hawaii Island, police paid tribute to Officer Manuel Cadinha, who gave his life in 1918, Officer William "Red" Oili, who gave his life in 1936, Officer Ronald "Shige" Jitchaku, who gave his life in 1990 and Officer Kenneth Keliipio, who gave his life in 1997.
A police media release described part of the East Hawaii ceremony:
At the Hilo ceremony, Mayoral Aide Desiree Cruz thanked police, their families and civilian staff for their sacrifices and support that "give us that wonderful sense of peace and security that we feel and are so blessed to have here on our island."

Oili's grandson, Daniel Oili, and great-granddaughter, Raynette Taketa, lit candles in memory of Officers Oili, Cadinha, Jitchaku and Keliipio. The four fallen officers were also honored with a 21-gun salute. Uniformed police officers in attendance then saluted during the playing of "Taps."
Also during Police Week, officers will conduct station tours at the Hilo and Kona stations from 9 a.m. to noon on Friday, May 20.