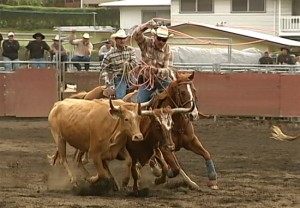 Video by David Corrigan
HONOKA'A, Hawaii – There are a lot of crazy contests at Honokaa's Western Week Annual Scholarship Rodeo, but can anything compare to the "Milk a Wild Cow" competition?
The paniolo of the Hamakua Coast show their skill and bravery in a number of contests through out the weekend festival, from double mugging to bareback bronco riding. But the jungle rules scramble to rope and milk an untamed cow – complete with humongous horns – takes the cake for chaos from start to finish.
Two cowboys on horseback rope either end of the stampeding cow, while the milker goes in to do the dirty work. He only needs a few drops, but in order to cross the finish line with the prize, the milker must sprint back to the designated barrel to deposit his dairy.
Organizers say the annual Scholarship rodeo – now in its 55th year – is the oldest and largest in the state. The Hawaii Saddle Club event attracts over 300 contestants from all over Hawaii and the Mainland.
The Western Week festival also included a block party, parade, and saloon girl contest, all centered around the town of Honokaa.
The action continues on Memorial Day at the Honokaa Rodeo grounds from noon to 4 p.m. (although if it is anything like Sunday's action, it will go far beyond the 4 p.m. end time.)