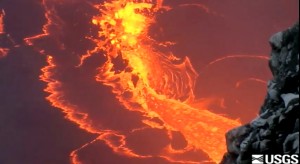 Video courtesy USGS – Hawaiian Volcano Observatory | Voice of Stephanie Salazar
Some new Big Island volcano video has been released by the Hawaiian Volcano Observatory.
This video shows recent activity at the lava lake deep within the Halema`uma`u vent cavity. Spattering can be seen in the upper left of the screen, and a steady stream of lava coming from an unseen source towards the southeast, is in the lower right. For scale, the lava lake is about 164 yards wide in this footage.
Scientists say the lava stream plunges into the lava lake, disrupting the crust in a chaotic fashion and later inducing a rotation to the flow in the lake.
A photo shows the source of the lava stream photographed by Hawaiian Volcano Observatory staff during an overflight, which is the only way this portion of the vent cavity floor can be seen.
On the East Rift Zone, the Pu`u `Ō `ō vent has also been busy. Overflows from the lava pond in Pu`u `Ō `ō have nearly leveled the crater floor with the perched pond. The floor of the crater is now 128 ft below the east rim.
A time compressed movie shows the refilling of Pu`u `Ō `ō over the past two months, taken from a thermal camera on the south rim of the crater.
Scientists say lava drained from Pu`u `Ō `ō on March 5 during the Kamoamoa fissure eruption, and remained absent for several weeks. This thermal camera began recording on March 18, and shows the abrupt return of lava to the crater floor on March 26. Lava refilling has been very unsteady since then, occurring in fits and starts, and has culminated in the development of a perched lava lake over the past several weeks. This perched lava lake has steep walls about 8-10 m (26-33 ft) above the surrounding crater floor.
Currently, no lava is entering the ocean.