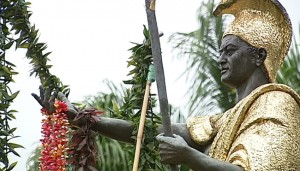 Video by David Corrigan | Voice of Stephanie Salazar
Hilo's landmark statue of King Kamehameha the Great was covered in flowers on Friday, one of four traditional lei-draping ceremonies taking place around the country this weekend.
The other statues, located near the birthplace of the king in North Kohala's Kapa'au, Honolulu, and Washington D.C. were also festooned with lei.
A light shower fell during the opening performance by the Hawaii County Band, but the rain cleared in time for the ceremony.
The reverent procession to adorn the famous statue, guided by the mea oli of Kaho'okele Crabbe, included the Royal order of Kamehameha, Ahanui O Ka'ahumanu Helu 'Ekolu, various local Hawaiian civic clubs, and Hula Halau O Hilo Hanakahi.
Kamehameha Schools trustee Janeen Ann Ahulani-Olds was the keynote speaker.
This 140th celebration of Kamehameha Day dates back to a proclamation made by Kamehameha V.
We will have more from this weekend's Kamehameha Day festivities in tomorrow's newscast.