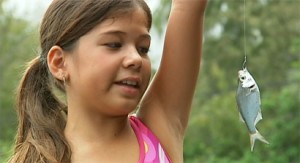 Video by David Corrigan | Voice of Stephanie Salazar
The 2011 Miloli'i Lawai'a Ohana Camp was held on the outskirts of the South Kona Wilderness last week, in the fishing village of Milolii.
10-15 year olds and their families spent four days by the sea, focusing on Marine Conservation and Fish Sustainability.
Camp activities included an 'Opelu Fishing Project, Hiking to Kapu'a Bay, Wana and 'Opihi Gathering and Cultivation, Throw-Net fishing and many more activities.
The camp culminated in this keiki fishing tournament, using bamboo poles the kids made themselves.
"There is an aura about Milolii," said Kaialii Kahele, one of the organizers and instructors at the camp. "There's a reason why people come from all over the world and drive that treacherous road from the Mamalahoa Highway all the way down."
The event was hosted by Pa'a Pono Miloli'i Inc and was free to the families of South Kona and Ka'u thanks to a grant made possible from Conservation International.