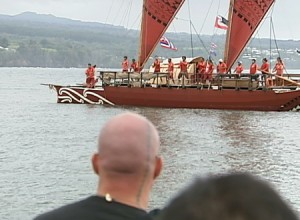 Video by David Corrigan | Voice of Stephanie Salazar
Most visitors to Hawaii arrive by airplane… but some arrive by canoe.
On Sunday morning, local canoe halau launched from the beach of Hilo Bay to greet and guide seven voyaging canoes to shore.
The vaka – as they are called – represent Tahiti, Samoa, Fiji, Tonga, New Aotearoa, New Guines, Vanuatu, Kiribati and the Solomon Islands.
According to Kaimana Barcarse, with the 'Aha Punana Leo Honuakai Division, this is a first for Hawaii.
The pageantry of Sunday's international meeting was special event for the Big Island of Hawaii. Welcomed to Moku o Keawe by the sound of the conch shell, the voyagers answered back from the shallow sea. The first in line, the crew of the Haunui vaka, performed a traditional haka dance, to the delight of the crowd along the packed beach.
Down the canoe line it went… as each of the seven arriving vaka gave their hosts a cultural salute, revealing the comon bonds shared between the people of the Pacific Islands.
The fleet set sail from Nuku Hiva in the Marquesas Islands earlier this month. The canoes are sailing under the auspices of the Okeanos Foundation, which is dedicated to the preservation of the world's oceans and marine life.
The Pacific Voyagers Fleet actually arrived in Hilo on Thursday, where they anchored at Radio Bay after clearing customs at the pier.
On Friday, a private welcome ceremony was held at Radio Bay, with the ritual drinking of awa.
Sunday was the grand entrance, and once all the crew members were brought to shore by the busy local canoe halau, a light rain began to fall. The voyagers were welcomed to Hawaii Island, and a ceremony of beach protocols involving the Royal Order of Kamehameha and other Hawaiian organizations took place.
While in Hilo, the canoes are being hosted by Ohana Wa'a, an alliance of Hawaii's voyaging organizations.
Barcarse says a voyage of seven vaka is not an easy task.
Next stop: the island of Molokai. Eventually the voyagers will attend the conference "Kava Bowl – Ocean Summit 2011″ in Honolulu, Hawaii. The Kava Bowl is a discussion on the consequences climate change.