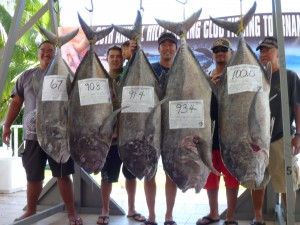 Photos in this video courtesy Kurt Kawamoto | Voice of Stephanie Salazar
Kurt Kawamoto also shared some photos of the recent Hilo Casting Club's 36th annual Fishing Tournament weigh-in.
Kawamoto's interest lie in promoting the barbless hook in place of traditional fishing hooks, and he says club president Kahana Itozaki "showed everyone how it's done this year" catching 7 on barbless. He weighed in 4 and tagged 3.
This photo is of Kalsey Nacis Jr and Sr. Kawamoto says the son barely beat dad with the 50 and a half pounder. Dad had two identical 50.2 pounders!
The winning fish was this 100 pounder, caught by Mel Hirayama one of the club's oldest members. Kawamoto says it was his 7th 100+ pound ulua and he's still fishing. "All the guys want to be like him," Kawamoto said.
Kawamoto says there were 15 fish caught on barbless, 6 of which placed. 54% of the anglers signed up to try barbless.
Top five fish:
1. M Hirayama – 100.0
2. R Kaiawe – 93.4
3. M Izuno – 91.4
4. S Yamamoto – 90.8
5. D Ojano – 67.0