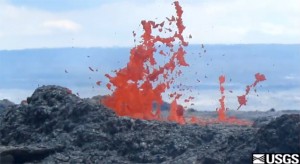 Video courtesy Hawaiian Volcano Observatory
HAWAII VOLCANOES NATIONAL PARK, Hawaii: Lava continues to erupt from about a dozen new points along a crack in the west flank of Pu'u 'Ō'ō, as of this afternoon, report USGS geologists with the Hawaiian Volcano Observatory.
Lava was moving much slower today, and it appears as if lava had begun to pond at the eastern end of the Kamoamoa fissure area.
In the most recent HVO Kilauea Status update, scientists write:
Mapping by HVO scientists today revealed that, overnight, the north lava flow did not advance at all and the south flow advanced only about 100 m (330 ft) farther downslope.

Today, the two flow branches were no longer distinguishable. Instead, lava was ponding in a low area between the west flank of the Pu'u 'Ō'ō cone and the eastern end of the Kamoamoa fissure. The volume of erupted lava was at a diminished rate compared to the initial outbreak yesterday.

Measurements today showed that the Pu'u 'Ō'ō crater floor collapsed about 80-85 m (260-280 ft). The Pu'u 'Ō'ō crater rim remained extremely unstable, with continued collapses along the crater walls sending blocks of rock onto the crater floor.

Gas emissions from east rift zone sources remain elevated.

The lava flows are entirely within a remote area of Hawai'i Volcanoes National Park that is closed to the public, and pose no direct hazard to developed areas.

At Kīlauea's summit, the level of the lava lake within the vent in Halema'uma'u Crater dropped since yesterday, but not significantly.
Meanwhile, the Hawaii Volcanoes National Park announced that they had re-opened Chain of Craters Road today.
This media release was issued by HVNP today, as well:
Officials at Hawai'i Volcanoes National Park reopened Chain of Craters Road at 4 p.m. today, after a 24-hour closure resulting from new eruptive activity at Kīlauea volcano's Pu'u 'Ō'ō crater. Park rangers are stationed near sea level at the bottom of Chain of Craters Road, at Pu'u Huluhulu and at Jaggar Museum to inform visitors of the latest conditions and best viewing opportunities.

On Wed., Aug. 3, the crater floor and lava lake within Pu'u 'Ō'ō collapsed and lava flowed out of its west flank. Scientists at the USGS Hawaiian Volcano Observatory monitored a rapid deflation of the crater floor and lava lake, and by 3:15 p.m. yesterday, the collapse began.

Visitors to Hawai'i Volcanoes National Park are able to view dramatic glows from the new Pu'u 'Ō'ō eruption from several vantage points within the park, including Pu'u Huluhulu, the Jaggar Museum overlook, and from the bottom of Chain of Craters Road.

"For the more adventurous, a short mile-and-a-half round-trip hike to Pu'u Huluhulu puts you in the line of site of the vent and new lava flows off the west flank of Pu'u 'Ō'ō," said Chief Ranger Talmadge Magno. "And, weather permitting, the glow is apparent after sunset as the aylight obscures any redness. Visitors can also drive to the end of Chain of Craters Road and look up and see the glow," he said.

Chief of Interpretation Jim Gale posted video to the park's website: http://www.nps.gov/havo/photosmultimedia/eruption-20110803.htm.

In addition, Kīlauea's summit eruption at Halema'uma'u crater continues, and visitors can often hear the roar from rocks exploding off crater walls, and can observe a beautiful red glow after nightfall. Rangers reported that the new incandescence from Pu'u 'Ō'ō is also visible from the Jaggar Museum overlook.

Hawai'i Volcanoes National Park is open 24 hours a day, conditions permitting. For eruption updates, call (808) 985-6000.

And while visitors are enjoying new lava activity, a six-person fire crew has contained approximately 80 percent of a wildfire ignited by lava on the southern end of the flow, approximately one acre in size. Another fire on the north end of the flow continues to burn, and is being monitored by fire officials.
A large crowd gathered at the Jaggar Museum Overlook last night, abuzz over the news that a new lava flow had burst forth. All that was visible, however, was a much brighter than normal glow in the direction of Pu'u O'o.
Stay tuned to daily updates about Kilauea's ongoing eruptions, recent images and videos of summit and east rift zone volcanic activity, and data about recent earthquakes are posted on the HVO Web site at http://hvo.wr.usgs.gov. Additional status reports will be posted as warranted.