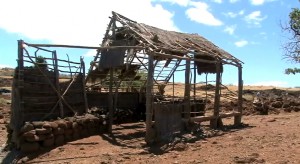 Video by Lynn Beittel, Visionary Video | Voice of Stephanie Salazar
LAPAKAHI, Hawaii: On Wednesday, the community in North Kohala gathered to celebrate a series of public land acquisitions.
A ho'olaule'a was held here along the scenic stretch of coast… where land parcels in Kaiholena, Pao'o, and Lapakahi – that's Kaipuha'a and Lamalaloa – were recently purchased for preservation, protecting public access to this beautiful natural area.
The National Oceanic Atmospheric Administration, the State Department of Land and Natural Resources, the County of Hawaii, and local advocates for open space joined the Trust for Public Land in the celebration.
Almost 180 acres of culturally significant shoreline have been preserved, in all, at a cost of over $10 million dollars.
From a joint Trust For Public Land, DLNR, NOAA and Hawaii County press release:
Nani ka waiho Kohala i ka'la'i (Beautiful lies Kohala in the calm) is the theme of a community ho'olaulea celebrating the acquisition and protection of shoreline Kohala lands located north of Kawaihae Harbor on Hawaii Island. The event celebrates the State and the County's acquisition of three shoreline properties: Lapakahi (Kaipuha'a and Lamalaloa), Pao'o, and Kaiholena North. Community members had previously gathered salt or pa'akai from the three-shoreline locations, and in Kohala's warm sun, gave thanks and passed out the salt to dignitaries and officials representing federal, state, county, non-profit, and community partners.

Fred Keakaokalani Cachola, an elder who was born and raised in Kohala, spoke on behalf of a number of Kohala community organizations that have led efforts to protect the Kohala coastline, including Maika'i Ka Makani 'O Kahala, Ka Makani 'O Kohala 'Ohana- Kako'o, Kohala Historic and Cultural Preservation Group, Malama Kohala Kahakai, and Malama Na Wahi Pana 'O Kohala: "The Kohala community gives humble thanks to the many individuals, organizations, and federal, state, and county agencies who gave kokua to save this land. The gift of salt or pa'akai from these three aina remind us of the vital connection between the aina (land) and our people. The health of our aina is the health or our people. We hope that this is only the beginning of more voluntary land conservation efforts along the Kohala coastline to ensure the public's access to the shoreline and the preservation of our cultural heritage."

Lapakahi (Kaipuha'a and Lamalaloa): In March 2011, the Trust for Public Land acquired 17,05 acres at Kaipuha'a and Lamalaloa from a private landowner, and transferred the shoreline parcel to the State of Hawaii, Department of Land and Natural Resources, Division of State Parks. "This parcel was surrounded on three sides by Lapakahi State Historical Park with the fourth side being adjacent to the Lapakahi Marine Life Conservation District. It has been the State's desire for many years to acquire this property and include it within the park as part of the larger Lapakahi complex. The 17 acres are a vital piece of a cultural and biological landscape of the Kohala coastline, and we are thankful that future generations will have an opportunity to appreciate this cultural complex within its natural setting and to enjoy the open space and access to the shoreline," stated William Aila, Jr., Director of the Department of Land and Natural Resources, who also unveiled a new interpretive sign identifying the new land and its cultural resources.

The Lapakahi area is revered by traditional Hawaiian healers who practice la'au lapa'au and is strongly associated with the famed kahuna la'au lapa'au (healer), Papa Henry Auwae. The property is rich with cultural sites and burials, and was recently listed as one of Hawaii's Most Endangered Places by Honolulu Magazine and the Historic Hawaii Foundation. The property also fronts the Lapakahi Marine Conservation District, which serves as habitat for over 116 marine species.

Funding for the Lapakahi (Kaipuha'a and Lamalaloa) acquisition was provided by the National Oceanic and Atmospheric Administration's (NOAA) Coastal and Estuarine LAnd Conservation Program (CELCP) (Which, in 2010, ranked this project #1 in the nation among 57 competing projects from other states) and the State of Hawaii Legacy Land Conservation Program.

The U.S. Congress established CELCP in 2002 to protect coastal and estuarine lands considered important for their ecological, conservation, recreational, historical or aesthetic values, and provides state and local governments with matching funds to purchase significant coastal and estuarine lands, or conservation easements on such lands, from willing sellers. Lands acquired with CELCP funds are protected in perpetuity so that they may be enjoyed by future generations. NOAA and the State's Office of Planning-Coastal Zone Management Program jointly administer the CELCP program.

The State of Hawaii Legislature established the legacy Land Conservation Program (LLCP) in 2005 to provide funding to public agencies and community organizations for land conservation. The LLCP receives 10% of the State's real estate conveyance tax (a tax paid by sellers when property is sold). The State Department of Land and Natural Resources administers the LLCP. From 2006 to 2010, the Legacy Land Conservation Program has issued $16.9 million in awards, and attracted $37.8 million in matching federal, county and private funds towards the protection of over 7,215 acres of cultural, natural, agricultural, and recreational resource lands. Funded projects leverage 70% matching funds from federal, county, or other private sources. On average, for every State dollar spent, $1.14 in federal matching funds are leveraged.

"The national #1 CELCP ranking is a testament to this property's unique cultural and natural resources, which are invaluable to Hawaii and to our entire nation ," said Senator Daniel K. Inouye, who spoke at the Kohala event. "The Kohala community, the State Department of Land and Natural Resources, NOAA, and The Trust for Public Land should take pride in their efforts to protect this incredible place and its history for future generations."

Pao'o: In April 2010, the Trust for Public Land (TPL) secured private financing and purchased Pao'o, 10.67 oceanfront acres located just south of Lapakahi, from a private landowner in order to take the property off the market and ensure that the County of Hawaii would be able to fulfill its plans to protect the property. In November 2010, TPL transferred the property to the County. The property includes over 27 cultural and historical sites that are part of an extensive series of traditional Hawaiian fishing villages located along the Kohala coast. The Hawaii County Public Access, open Space, and Natural Resources Preservation Commission (PONC) ranked this property high on its priority list for protection. The State LLCP (TPL assisted the County in applying to the LLCP) and the County (through PONC) funded the acquisition. The PONC fund was created in 2006 in a ballot measure and receives 2% of county real property taxes for land conservation.

"With the acquisition of Pao'o, in addition to our earlier purchase of Kaiholena, we are putting together the largest and most significant shoreline access park in the state, rich in local historic and cultural significance, and with tremendous recreational opportunities for the benefit of our Hawaii Island families," said Mayor Billy Kenoi. "I'm extremely pleased that our partnership with the Trust for Public Land and state Legacy Land Conservation Commission resulted in this acquisition of Pao'o, which demonstrates our commitment to work closely with state and private agencies and the local community to preserve our important lands for future generations."

Kaiholena North: In January 2010, the County of Hawaii acquired a 151-acre oceanfront property in North Kohala known as Kaiholena North. The property, consisting of three separate parcels, includes a water well on undeveloped ranchland and several small coral beaches along 3,000 feet of oceanic frontage. PONC also ranked this property high in its priority list. The Kaiholena property was identified in the 2008 North Kohala Community Plan as an important area for protection. The County is currently in the process of purchasing three parcels (111 acres) nearby known as Kaiholena South.

"This celebration marks an unprecedented partnership and collaboration among community, public agencies, landowners, and non-profits to conserve the Kohala shoreline, which is part of a significant cultural and natural landscape," stated Lea Hong, Hawaiian Islands Program Director for TPL. "We hope this partnership thrives and continues well into the future to voluntarily conserve lands important to the people of Kohala." Other pending TPL conservation projects along the Kohala coastline include 27 shoreline acres at Kauhola Point, which TPL and Maika'i Ka Makani 'O Kahala hope to acquire and protect through LLCP and private donations. To donate to the Kauhola Point effort, please contact Laura Ka'akua at laura.kaakua@tpl.org